Description
SMART PARACHUTE
Unlike traditional round canopy systems, the Wingman with square parachute technology provides the safe and most comfortable pilot emergency solution. With the ability to steer and safely land your parachute, pilots can "fly" rather than "drop" from danger.
It has a very low rate of descent in comparison to round parachutes – even when fully loaded. The parachute is in 50% brake and forward speed configuration after opening. In this configuration you can change direction away from obstacles with the risers and the parachute will land you safely .
If you release the brakes lines actively and by intention, you increase forward speed and rate of descent. Holding on to the brake lines by the toggles you use them to change direction and pull them down to shoulder level to flare for landing.
Look at the YouTube video to see a "passive" landing without using the brake lines:
EXTREMELY FLAT
Unique Ergonomic Design and Space saving shape.
Manufactured with innovative materials and fabrics.
EXTREMELY COMFORTABLE
Adjustable harness for your individual comfort and safety.
Various removable and "easy to clean" padding options for your comfort.
EXTREMELY SAFE
manual and automatic activation; landing with low rate of descend; flared landing possible; steerable to avoid obstacles for landing. All versions and sizes tested with 136kg and 175kt and TSO approved for 115kg and 150kt.
EXTREMELY FLEXIBLE
Because of three available canopy sizes for suspended weights up to 115kg. Build with various hardware and coloring options.
VERSIONS: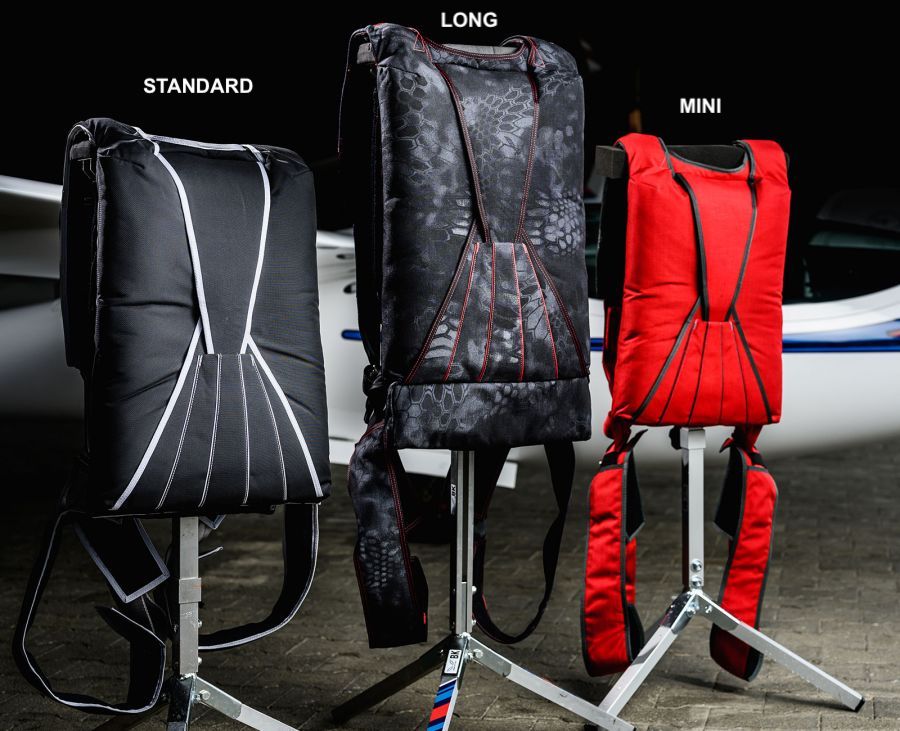 MINI WINGMAN
The mini Wingman container is extremely small, only 43 cm long and 31 cm wide and 5 cm thick (excl. removable cushion).
Therefore it fits maximum a SPEED 190 Canopy (max. recommended pack opening weight 88kg) and is ideal for small persons and / or narrow aircraft.
STANDARD / LONG WINGMAN
The standard and long Wingman can be equipped with 3 different canopy sizes.
The parachute pack is 50 cm long and 35 cm wide. Depending on the canopy size packed inside, the thickness (excl. removable cushion) will vary:
3,5 cm Wingman 190
4,0 cm Wingman 220
5,0 cm Wingman 250
The lower part of the long Wingman is extended 10 cm with a triangular shaped cushion. The cushion creates extra comfort by supporting your lower back. Ideal for you, when you are in a reclined sitting position.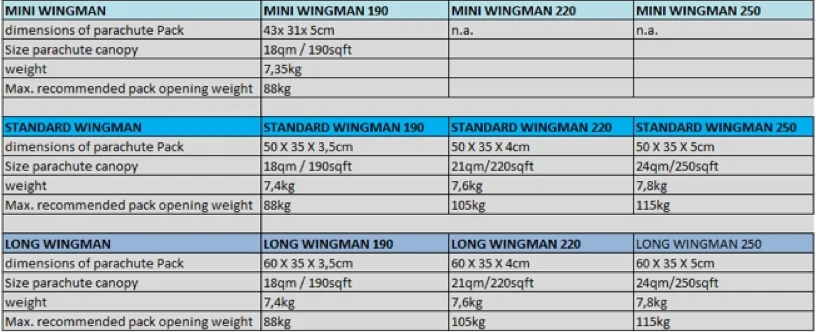 MAINTENANCE
Inspection interval: 1 year
Service live: unlimited / (20 years in some countries)
DELIVERY
Factory inspected parachute pack
High-quality zipped carrying bag
Manual and maintenance booklet
Made in Germany to your individual specifications to perfectly fit you and your aircraft in size, shape and colors.
Contact us for the expected time from order, production to delivery.