Description
ISS-PROTECT Durability/Quality:
The ISS-Protect protection covers are protecting surfaces from UV-rays, rain, wind, dust and hail. The outer fabric of the covers absorbs this energy and in cause of that the cover ages addicted to the strength of the radiation, the action as well as the exposure duration. If one take other materials (for example canvas of trucks) the durability, would be nearly unbounded, but sadly under such covers condensation forms due to the fact that they are not breathable – what is very damaging for the paint. Hence we did not compromise and chosen the best convenient materials for our covers. ISS-Protect offers 5 years guarantee on the outer fabric. The NANOTOP-conditioning adds higher durability, preservation of the appearance, no "absorbing" effect, no mold and easy cleaning of the covers.
ISS-PROTECT produces three different types of covers:
All-weather covers
ISS-Lite Covers
Covers against dust
ISS-PROTECT all-weather covers:
The fabrics, which are made in Switzerland, have the best UV-stability by permanent usage with 5 years guarantee.
The upper layer is Nano sealed.
The covers are 100% waterproof, seawater resistant and bird droppings resistant.
The covers protect the objects against rain, dirt, dust and hail.
The covers are free from condensation.
They have an antistatic effect.
The covers fit perfectly because they are made-to-measure.
Putting-on and taking-off by only one person possible.
ISS-Lite "the ideal cover for traveling"
The ideal cover for traveling.
Light, waterproof and UV-resistant.
The all-weather covers can be fitted with the Space Flex Protector System: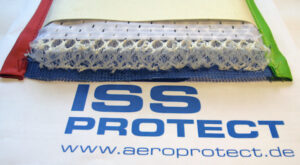 Space-Flex protectors are firmly sewn in.
Made of high quality extruded polyamide fibre.
Thickness 11 mm, compression hardness 10.4 kPH
Protection of wings and tailplane against hail and mechanical impact.
Increased thermal protection and climate control.
The best tested impact / hail protection available!
The ISS-Protect covers are made in Germany.