Description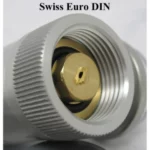 Specification:
4 separate controlled outlets.
For use with EDS, XCP and XCR systems.
EDS with standard XCP to EDS-1070 tubing.
With a high pressure cylinder monitoring gauge.
This series of 2111 second generation (2G) of DIN pressure regulators are gauged. MH oxygen has improved the specifications and machining tolerances of these 2G pressure regulators which in turn provides a more constant manufacturing process and long term product performance.
MH oxygen regulators are constant-pressure calibrated to deliver about 15 psig. (1 bar) of pressure dynamically (that is while flowing). They have been designed to stop the high-pressure inlet side while the low pressure outlet side is stopped (static no-flow condition) at a pressure of about 20 psig. This allows for a semi-remote on/off control action of the regulator. This is utilized in the EDS, XCR on/off control system and in the XCP systems while no stations are connected to any of the outlets.
This DIN regulator incorporates the new Euro (Swiss) style inlet.