Description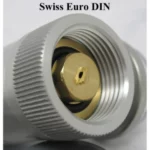 Euro DIN 477-9 Pressure regulator from Mountain High oxygen system.
DIN 477-9 is the standard fitting for the attachment of a compressed gas cylinder to the required regulator or transfer line in Europe.
DIN 477-9 regulator is of the second generation (2G), with even better specifications and machining tolerances.
Regulator features:
Constant lock-up, flowing pressure range and large flow reserve throughout the pressure charge range of the cylinder.
Light weight aluminum body with oxygen compatible brass and seat materials in the critical wetted regulating/throttling high-pressure areas.
Wide operating temperature range: -20 to +50 C
Fitted with MH 400 pressure gauge
Axial outlet one touch 4mm – 180º
Package includes:
Extra regulator fitting one touch 4mm – 90º
Red PU O2 tube for EDS system – 1,5 meter
Special flat-wire Wave-Helix spring design complements the gas dynamics and aging characteristics of the inlet seat to provide lock-up to dynamic pressures that are unusually tightly matched for a piston type regulator design throughout its service life.
Our unique Crown and seat design provides very fast lock-up response times with an oscillation-free high flow factors specifically designed for use with pulse demand systems.
The 2G series of pressure regulators is compatible with all Mountain High portable Pulse Demand or Constant Flow oxygen delivery systems.
This high pressure oxygen regulator is designed and built by Mountain High in the USA.