Description
Description
The E-Z Breathe Boom Cannula II™ kit for use with Mountain High EDS Pulse demand systems.
Mountain High has redesigned their Boom Cannula system to make it even better. The redesigned E-Z Breathe nylon boom arm affixes to your headset with a ball mount and adhesive pad. It can swivel about and slides in and out for best fit. The new improved arm incorporates an adjustable friction lock to eliminate slippage. The nasal tips and the entire feed-tube assembly are easily replaceable, as is the aluminum mount ball. The arm can be easily removed from the headset when not in use.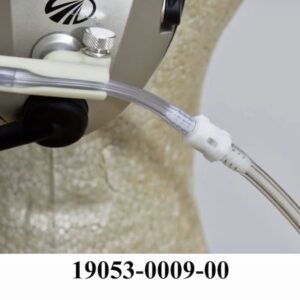 The E-Z Breathe Boom Cannula II™ boom cannula kit from Mountain High has all the items needed to install onto almost any headset in use today.
However it can optionally be fitted with the E-Z Breathe twist-lock Quick Disconnect. (SKU: 19053-0009-00)
This connector allows the disconnection of the feed tube while leaving the Boom arm in place on the headset.